Vancouver, BC –Daring you to explore a new style guide this year is fashion designer Wendy Van Riesen from Dahlia Drive. Urging you to trade in those floral skirts for bubble dresses and cashmere cardigans for kimonos, Dahlia Drive's new collection reminds us that most exciting creations in life often come from the most unexpected sources.
"I like to design clothing as architectural structures that house the shape of the body as an alluring shadow within," explains Wendy.
Inspired by this beauty of the female form, Dahlia Drive's fall 2011 collection challenges you to dress outside the box by dressing within it. Working with pre-loved materials such as recycled curtains, saris, and vintage scarves, Dahlia Drive resurrects the fashion wasteland. Her hand painted images and avant-garde silk-screens get transferred onto already sewn garments. "That way, the image wraps around the entire body and is not truncated by seams," explains Wendy.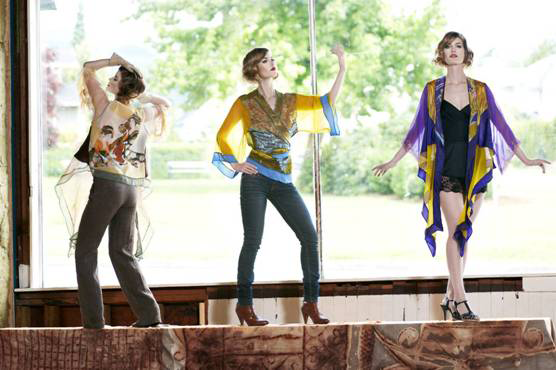 Juxtapose feminine fabrics like lace and silk with masculine prints such as rusted gates and brittle bones, throw in a fun yet practical autumn palette of rust, grey, olive green and turquoise, and you've got yourself this couture-like collection for the price and practicality of an everyday outfit.
Youthful trendsetters can layer a translucent bubble dresses (pictured top left) over a fitted body suits to show off your fabulous figure; an office go-getter can share their creative side with playfully printed tunics (pictured top right), and Wendy's new cozy yet sexy silky kimonos (pictured bottom) are the perfect way to go from dinnertime to playtime without so much as the loosening of a button.
Whatever your age or stage calls for, Dahlia Drive reminds you to always embrace the versatility of life by never settling for safe.
Pieces in the Dahlia Drive fall collection range from $185 – $225 and are available in stores across Vancouver such as Favourite and Twigg&hottie as well as online.
For more information please visit www.dahliadrive.com.
To speak with Wendy and for all other media inquires please contact:
Sarah Murray
Director, The Honey Mustard, www.thehoneymustard.com
t: 604-734-5674, c: 604-418-5436
twitter: @thehoneymustard