(Vancouver, BC)—Art imitates life and fashion imitates art as Dahlia Drive takes on Matisse during the Vancouver Art Gallery exhibit- "Collecting Matisse and the Modern Masters: The Cone Sisters of Baltimore" which runs from May 26- September 30, 2012.
Designer Wendy Van Riesen looked at the 27 signature works by Matisse in the exhibit but one piece in particular inspired her. "Striped Robe, Fruit, and Anemones" became the masterpiece that will decorate her new hand painted kimonos (pictured left) that will be sold exclusively at the Art Gallery Store.
"The Cone Sister's collection includes many textiles and many painting of ornate textiles so I was delighted when I was asked to create a product," explains Wendy. "Now, after you see the exhibit, the kimono will allow you to walk away as a Matisse canvas!"
Working in the Japanese flattened perspective called ukiyo-e, the kimonos celebrate Matisse and this style of art as well as showcasing Wendy's individual talent through her one-of-a-kind Japanese-inspired kimonos that are sewn together from recycled scarves and curtains (pictured below).
Dahlia Drive is excited to return to the Art Gallery Store after a successful collection of slip dresses inspired by the Leonard da Vinci exhibit. The return invite to the Art Gallery Store recognizes Wendy's ability to translate classic art (whether from the Renaissance or modern art) into wearable and beautiful fashion.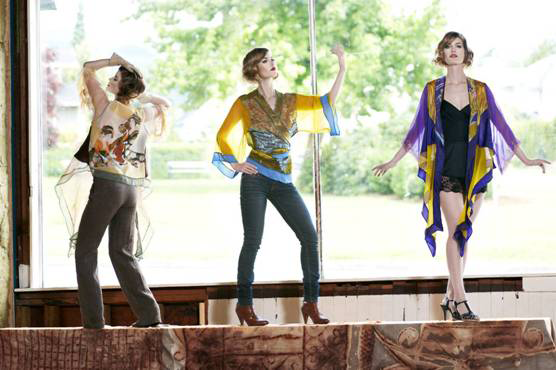 For more information about Dahlia Drive please visit www.dahliadrive.com.
For more information about the exhibit please visit www.vanartgallery.bc.ca.
For all media inquiries please contact:
Sarah Murray, Fashion Capsule Communications + Style Lounge
www.fashioncapsule.ca
t: 604-418-5436